About NEC
Family owned and operated since 2003, NEC provides a level of quality in service that assures each client that they are receiving the highest quality workmanship in resolving your erosion issues. Our extensive experience allows us to create cost-effective solutions for a variety of erosion problems.

NEC's commitment to proper erosion control compliance allows our clients to achieve their goals while keeping their investment safe. From re-vegetation to keeping contaminants from leaving a job site, NEC uses a variety of products and services to meet the needs of our clients.

No job is too big or too small for NEC. Each client is treated with the same level of professionalism whether it's residential or government contract. At NEC, we pride ourselves on our level of commitment and have developed an unmatched reputation in quality, efficiency and service making NEC a leader in the industry.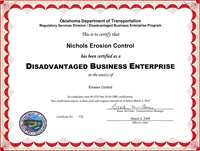 Nichols Erosion Control is certified by the Oklahoma Department of Transportation as a Disadvantaged Business Enterprise.